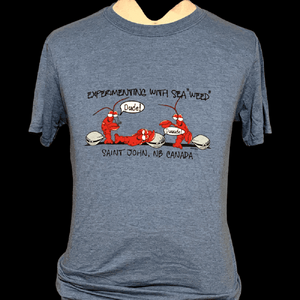 This is another one of our very popular humor Tee Shirts with visitors to our shops in the Saint John City Market especially with those from countries or states who also have legalization.
This cheeky shirt makes a great gift for friends and family who enjoy a good laugh and / or  are open to a little "experimenting". The
 Ring Spun cotton gives them a soft almost shami-like feel and a great fit. The Heather Indigo shade goes well with a wide range of colors. 
You will enjoy your shirt for much longer if you launder it in cold water and tumble dry low heat or hang to dry (preferable) but it's poly-cotton blend let's it tolerate normal washing well if you can't always follow the recommended process. Get a get a fun piece of Canadiana.